Toyota C-HR Koba 2WD Hybrid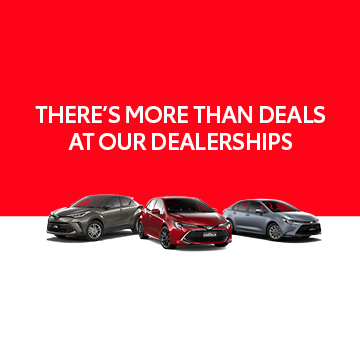 Overview
1.8L Hybrid
5
Automatic
4.3 L/100km Combined[G3]
2WD
Features
Body Style

SUV

Engine Description

4 cylinder, in-line, 16-valve DOHC with VVT-i Wide and Direct Injection

Dimensions

Length 4390(mm), Width 1795(mm), Height 1565(mm) [H7]

Wheelbase

2640(mm)

Towing Capacity

Braked 0(KG), Unbraked 0(KG) [G6]
Why Buy From Us
Cessnock Toyota was first established in 1953 and over that time has earned a well-deserved reputation for outstanding customer service. We are a family owned business that is proud to be part of the local community.
Many of our staff members are from the local community with the vast majority having provided over 10 years' service to the company as they enjoy the environment, and this shows in their work ethic.
Whether it be new vehicle sales, used vehicle sales, vehicle servicing, vehicle detailing or spare parts and accessories our staff members will ensure that you get the quality service that you deserve. It is this level of service that has made Cessnock Toyota the proud winner of NSW Rural Dealer of the Year AND The prestigious Toyota Presidents Award in previous years. Both awards highlight excellence in Guest service in all areas of our business and reflect our attitude to making sure we offer an unmatched experience for you – our guests.
We also ensure that we give back to the community through sponsorship and donations. Eiji Toyoda, who was the the fifth president of Toyota Motor Corporation and the nephew Toyota founder Sakichi Toyoda, once commented "People are the most important asset of Toyota". This is most evident when you visit Cessnock Toyota, where our team of employees will work together to not only make sure your experience is pleasant, but also memorable. Lets have a quick look at some of the people you might meet.
Matthew Stamp started as a New Vehicle Sales Consultant in October of 1997. In that time he has received many accolades from Toyota, including being judged as the best sales consultant in Australia by his peers in the annual Toyota Sales Walkaround contest not once, but twice. He is currently the only sales consultant in Australia who has achieved this level of recognition. He is also a Toyota Gold Executive Mentor which acknowledges the efforts of sales consultants who consistently over achieve in the areas of sales, training and customer satisfaction.
Amy Smith is one of the newer additions to our team, having started as our Business Manager in September 2015. Having worked in the automotive industry for almost 20 years, Amy is more than capable of providing the right advise to help you get not only the best finance package for your needs, but also make sure you get the right insurance cover for your new vehicle.
At delivery of your new vehicle you will be introduced to Vernon Lucas who has been a Service Advisor with us since June 1986. Obviously, over this time Vernon has one countless awards not only with Toyota but also with the Cessnock Chamber Of Commerce for his service to the industry. He is currently ranked as a Service Specialist with Toyota so that you can rest assured that your new vehicle maintenance is in safe hands.
But the most important person at the dealership is Allen Saunders. He has been a New Vehicle Detailer with Cessnock Toyota since August 1973! He is the person charged with making your new vehicle look pristine. He has a great sense of pride in his work and his eye for detail ensures that you won't be disappointed.
So it's the people that make a difference, and that's why you should choose Cessnock Toyota.
We sincerely hope that this gives you some insight into the extent of support and commitment to the local community, but the best way to find out is to become part of the Cessnock Toyota experience yourself. Don't hesitate to ask any of our helpful staff how we can best assist you with your vehicle needs.
Hybrid Technology
How the hybrid system works.
Starting Off
The electric motor is used primarily and power store in the battery is used to turn the motor.
Full Acceleration
Power is provided by the petrol engine in addition to the electric motor. Output is maximised for acceleration.
Deceleration
The electric motor functions as a generator during deceleration and braking to recharge the battery.
At Rest
Braking at a traffic light, the petrol engine is cut off and the car is brought to a stop. The system automatically avoids idling to conserve fuel and stop CO2 emissions.
Effortless Acceleration
Toyota Hybrid's electric motor delivers torque from the moment your foot hits the accelerator, so you're always quick off the mark.
Seamless Performance
Toyota Hybrid seamlessly integrates the high torque of a battery-powered electric motor with the efficient power of a petrol-driven combustion engine.
Outstanding Efficiency
Thirty years of continuous improvement has ensured Toyota Hybrid engines provide excellent fuel efficiency to help you save at the pump.
Batteries that go Further
The Hybrid battery used by Toyota, requires no maintenance, charges automatically while you drive and never needs to be plugged into a power supply. From 1 January 2019, Toyota Hybrid batteries are backed by a five year/unlimited kilometre warranty[W1]. Complete an annual hybrid battery health check according to Toyota specifications during routine maintenance, and we'll extend your Hybrid battery warranty to 10 years.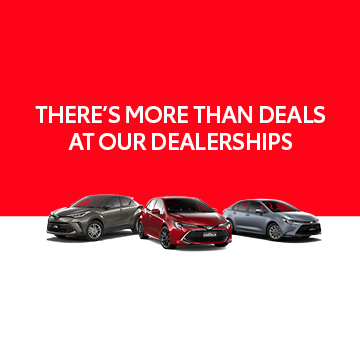 Disclaimers
[W1] The Hybrid Battery is warranted for the 5 years/ unlimited kms from date of first delivery. This can be extended for an additional 5 years with an annual Hybrid health check, as part of normal vehicle routine maintenance. Refer to warranty conditions. This warranty does not limit and may not necessarily exceed your rights under the Australian Consumer Law.
[G3] Actual fuel consumption may vary depending on driving conditions/style, vehicle condition and options/accessories fitted. Source: ADR81/02 combined.
[H7] Vehicle weights/mass/volumes and dimensions are approximate and subject to individual vehicle variances. Vehicles should be individually weighed and measured before fitting any accessories, towing or designing any compatible trailer/caravan or otherwise using the vehicle in any way that depends on this value.
[G6] Towing capacity is subject to regulatory requirements, towbar and vehicle design and towing equipment limitations. Ask your Dealer for Toyota Genuine Towbar capacity and availability details.
[DI] Best efforts have been made to ensure accurate availability of vehicles and customisable vehicle configurations. Please contact the dealer to confirm vehicle location and availability for date of intended visit.
* Drive away price shown includes on road costs. For Brand New cars this includes 12 months registration, 12 months compulsory third party insurance (CTP), a maximum dealer delivery charge, stamp duty and metallic paint (where applicable). Vehicle weight is calculated using the TARE weight. For Demonstrator cars the recommended drive away price shown includes the balance of registration, 12 months compulsory third party insurance (CTP), a maximum dealer delivery charge and stamp duty. The drive away price shown is based on the dealership location's postcode, and on the owner being a 'rating one' driver aged 40 with a good driving record. Please note that your actual drive away price may differ depending on your individual circumstances (including, in NSW and QLD, your choice of insurer). Accordingly, please talk to your local Toyota Dealer to confirm the price that is specific to you. Statutory charges are current as of today.
Approved applicants only. Terms and conditions apply. Toyota Finance is a division of Toyota Finance Australia Limited ABN 48 002 435 181, AFSL and Australian Credit Licence 392536.